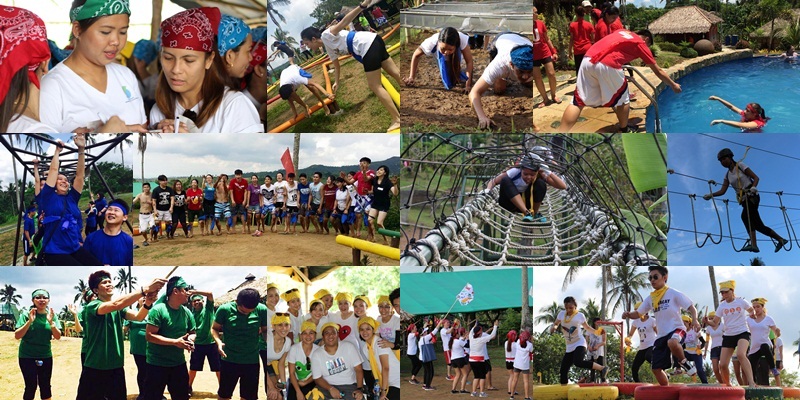 It was indeed a very busy day for Playworks on the first Saturday of June, holding six companall together at Gratchi's Getaway, Tagaytay. A massive 200+ spirited people were all ready to face the challenges that were organized for their whole day stay. Groups coming from diverse companies were present for their team building exercises.
Thirteen (13) energetic employees coming from a trading company, Mitsui, twenty-three (23) hyperactive people from a financial company, Sunlife Grepa, thirty (30) dynamic individuals from a Chinese trading group, Se Jo Tong, forty-two (42) tireless representatives from a leading global lighting brand, Landlite, fifty-three (53) cheerful staffs from one of the country's leading banks, Security Bank, and sixty-three (63) lively participants from a leading donut chain, Dunkin Donuts..
Exciting indoor and outdoor activities were prepared for them to let loose even just for a day. Even marshals were all set-up to ensure a safe adventure as the participants compete for the Great Farm Race.
To start pumping up their competitive spirits, the facilitators of each company began conducting mind-boggling indoor games aiming to unite them as a team, and to link them as a whole unit.
The Blue Team from Security Bank yelling out their chants to find their lost mates for the Blind Barnyard.
The Yellow and Green Team setting up strategies to solve the Traffic Jam.
To fill them up more with stimulating activities and test the teams' capabilities, the farm awaits! Loaded up with stations of obstacles, high ropes, and flag creation, The Great Farm Race is all ready to suffice their competitive auras.
The Blue Team working their way hand-in-hand through the last station.
Hopping from one tire to the other never gets old!
The Red Team from Landlite conceptualizing a symbolic flag to finish up a station during the Great Farm Race.
It is never too late to smile before you fall off from balancing.
Hyperactive representatives from Security Bank brave enough to cross the high ropes.
The winning team from Landlite showing off their trophies and victorious smiles.
Team Se Jo Tong all muddy and messy as they reach the finish line.
Team buildings are not yet over with just finishing the stations of The Great Farm Race. Of course, the losing team always has to do a dare. For Gratchi's Getaway, it has always been a tradition during team buildings that losing teams would go down the messy and slimy mudslide. It is so thrilling that losing teams would start enjoying rather than cursing it, and that even other teams would dare to do such so as to complete their Gratchi's Getaway experience. Consequences have never been this exciting with The Mudslide!
Behold… The Mudslide!
Playworks and Gratchi's Getaway are truly thankful for those companies for giving us the opportunity to have spent their team building activity with us. What an awesome way to welcome the month of June. Truly a fun and memorable day for everyone!